How Many times you've created a new contract, receipt, report, letter by copying one of your Microsoft Word documents, used as a template, and then changing just a few parts of text. In this article you'll learn how to create a form in Word which others can fill out.
Create a form in Word
To create a form in Word that others can fill out, you'll need to create a new document and then start adding content controls. Content controls are like placeholders, where user can enter text, number or select a date or option from a list.
Check if there is a Developer tab in your ribbon.

If you don't see it, right click anywhere on the ribbon and click on Customize the Ribbon... menu option. This will open up a dialog where you can customize your ribbon tabs.

You can also click on the File tab, select Options at the bottom left and then click on Customize Ribbon tab in the dialog's left side menu.
In Customize Ribbon dialog, locate the Developer checkbox under Main Tabs list on the right side of the dialog and click on it. Make sure it is checked.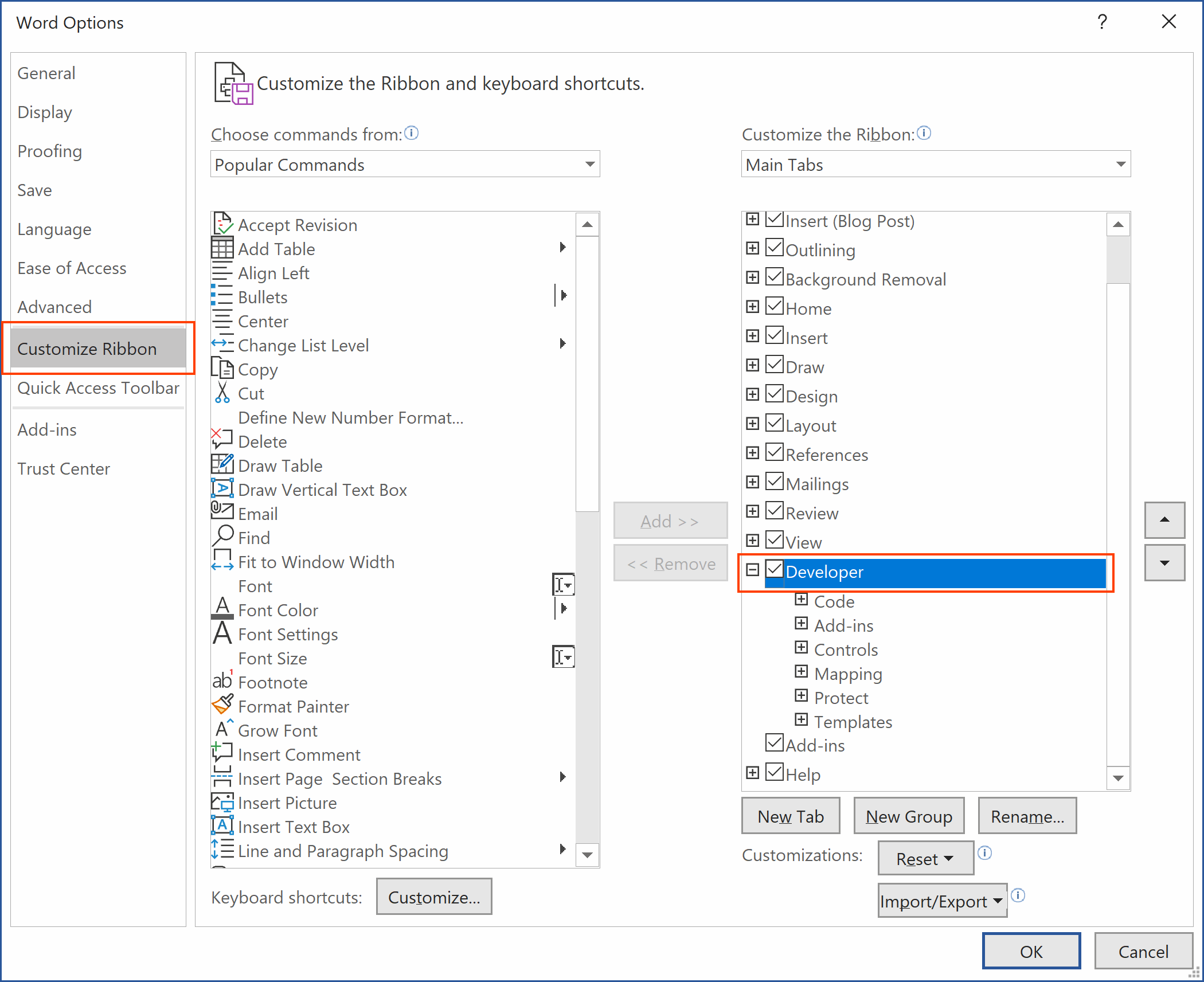 Click on OK button to close the dialog. You should now see a Developer tab in the ribbon, click on it.
Design a Word form with content controls
Once you click on Developer tab you'll see a list of form content controls you can use in your Word document. Click on any icon to add a control to the document. Move a mouse pointer over a control icon to display a tooltip.

Here is a list of common content control commands you will be using to create a form in your document.
Rich Text Content Control
This control will enable the user to enter rich formatted text using bold, italic, fonts etc.
Plain Text Content Control
This control will allow the user to only enter plain text.
Picture Content Control
Add a picture to your document.
Check Box Content Control
Add this control to present a user with Yes/No check option.
Combo Box Content Control
Combox box is a combination of an input text field and a list of options.
Drop-Down List Content Control
This control will give a user a list of options from which one option can be chosen.
Date Picker Content Control
A convenient way to select a valid date.
To customize a content control click on it and then in the Controls toolbar section of Developer tab click on Properties.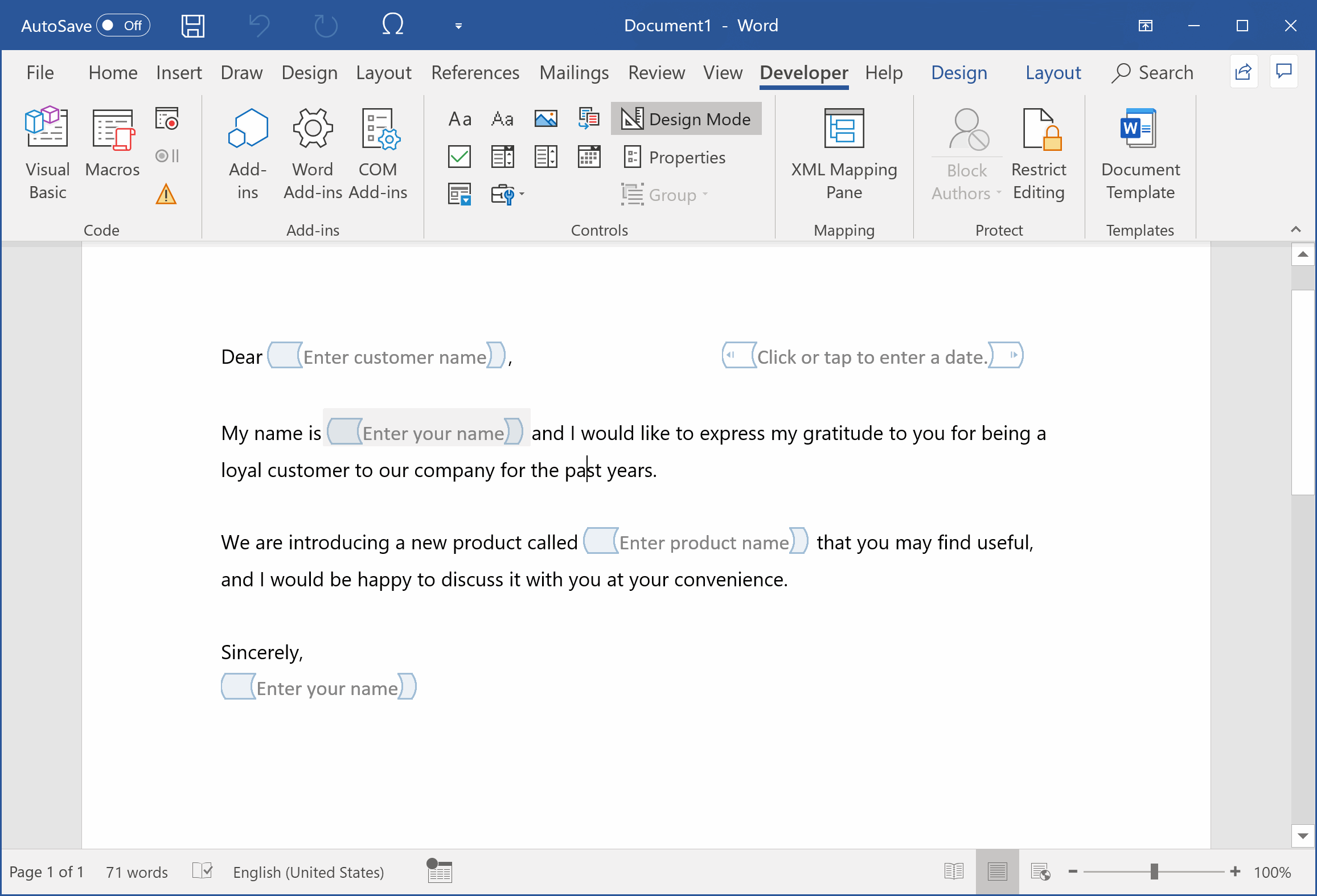 To turn on Design Mode, click on the button inside Developer tab. This will enable you to enter placeholder text for your content controls and make them more visually distinct.
Don't forget to turn off Design Mode if you wish to fill out the form and enter actual text.
If you've followed the steps above you should be able to create your fill-out forms in Word.
Is there an easier way to create a form in Word?
Creating a form template in Word with content controls is not as user friendly as you might thought, right? Content controls are hard to manage, user might not fill out all the input fields, there are no instructions and distribution is hard.
You might take a look and try out WordFields app, which saves your time when creating Word forms and gives you extra functionality like sharing - without any need to use content controls or advanced Word features.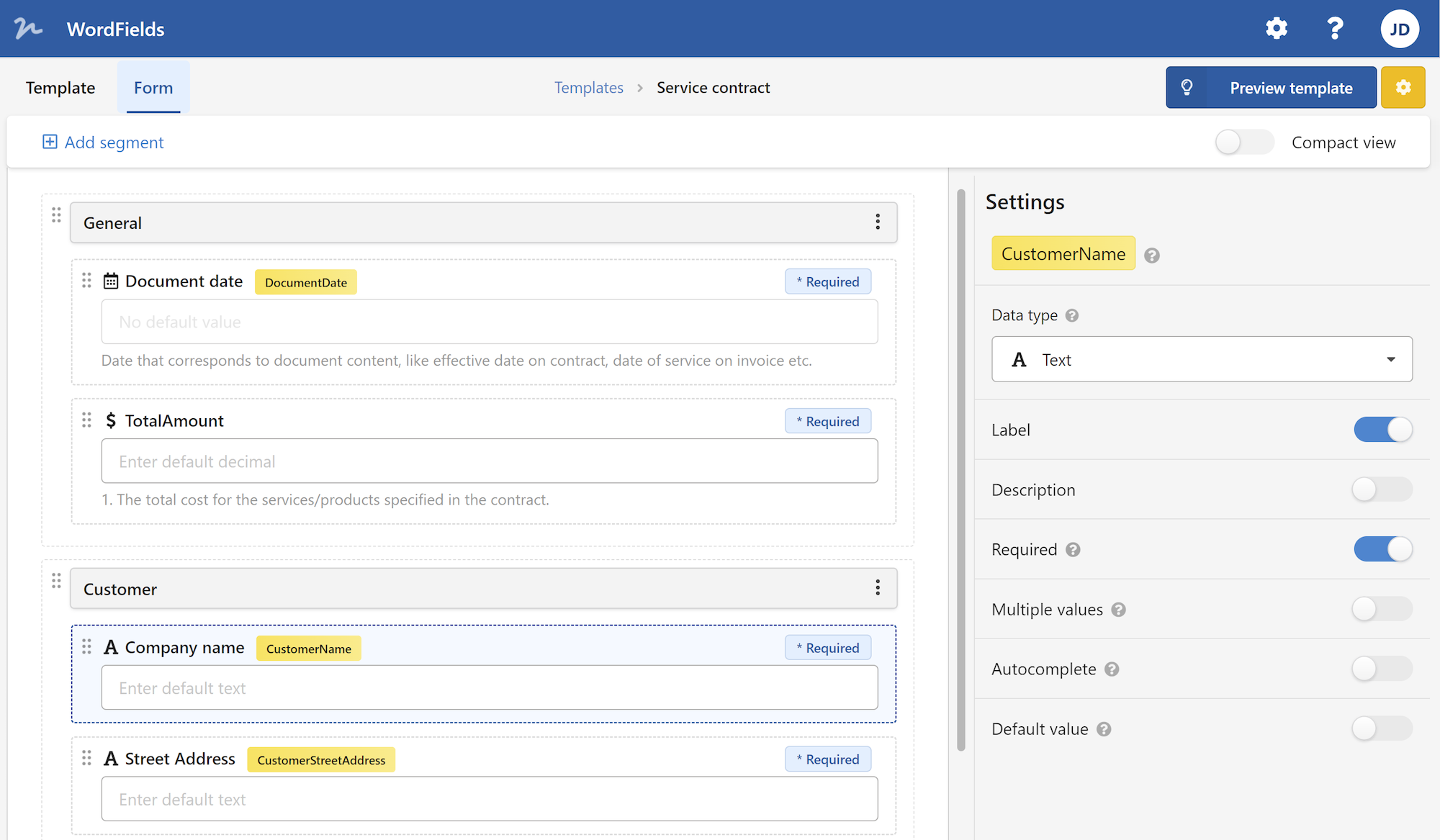 With WordFields, your team has everything in one place, so everyone instantly knows how to create new documents. Get started for free.